Sofratika Theater is located in the village of the same name about 500m east of the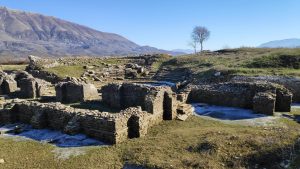 national road (Gjirokastra-Kakavija). The theater has a diameter of 50m and has a capacity of approximately 4000 people. It is the only example in the Balkans of an open field theater. This theater is thought to have been built by Emperor Adrian (117-138 AD). Archaeological excavations in this place give important elements for the identification of this site with the city mentioned in the Peutingerian Table (Tab. Peut. VII, 3) Hadrianopolis, a city founded by Adrian for the control, management and use of this very prosperous valley. The theater has a semi-elliptical planimetric shape with dimensions of 40.4m x 51m, created from an external wall 0.90m wide, reinforced with buttresses.
The theater consists of a stage, a 23m long orchestra and a staircase (cavea) supported by earth filling reinforced with three perimeter and transverse walls. The Sofratika Theater is built entirely in the field, realizing the entire construction with limestone and mortar. The masonry technique in its interior respects the Roman one by applying butobeton type fillings while the surfaces are apparently in rows of limestone, almost equal in density and with fine surface engraving. Large stones were used only on the stairs and at the bottom of the achene and orchestra.
[modula id="1722″]