The Church of the Dormition of Theotokos, simply known as Koimissi or Saint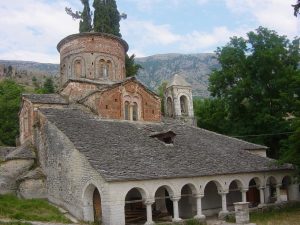 Mary Church is an Eastern Orthodox Christian church in the village of Labovë e Kryqit, in Gjirokastra. It is one of the most representative samples of Byzantine architecture in Albania. The church shares a number of typical features of 9th–11th century Byzantine architecture. The connection of the central aisle to the subsidiary aisles as well as the narthex is ensured through a triple passage (tribilon).
Several architectural elements found at the exterior of the building, such as the dome, the windows, and the combination of brick- and stonework, are influenced by contemporary Byzantine churches in western Macedonia.
The 10th-century dome is the oldest example of a circular dome found in the region of Epirus, probably an evolution of the older octagonal style. The fishbone pattern of the exterior is also found in a number of contemporary church buildings in Epirus, Western Macedonia, and Lakonia, in Greece, although not a quite common feature in Byzantine architecture in general.
[modula id="1733″]