Promotion of Cross-Border Cultural Cooperation with the aim of Innovative Tourism Utilization
The Laboratory of Knowledge & Intelligent Computing of the Department of Informatics and Telecommunications, University of Ioannina, is the Lead Beneficiary of the project SMARTiMONY which is funded by the Cross-Border Cooperation Program "Greece – Albania 2014-2020". The Municipality of Igoumenitsa, the Institution of Prefecture of Gjirokastra Region and the Regional Center for Development and Cooperation participate as partners in the project.
The SMARTiMONY Project aims:
in the promotion of cultural tourism
the adoption of new innovative methods centered on culture, for economic and social development
to strengthen the tourism product through the cultural and creative industry
attracting tourists by exploiting the tangible and intangible cultural heritage through innovative narrative techniques and multimedia
the creation of sites of cultural interest, based on a new model of experiences
the provision of tourism experiences based on the combination of innovative ICT products / services for the promotion of tangible and intangible assets of cultural heritage.
Members of the Laboratory participated on 13 & 14 September 2021 in the actions carried out in the area of Gjirokaster. On September 13, a study visit was conducted which included the visit to ancient Antigoneia, the fortress of Paleokastro and the fortress of Gardiki (Kardhiq), the ancient Adrianople as well as the Monastery of Panagia Kalogorantzi (Goranxi).
On September 14, the study visit continued to the Ali Pasha Bridge, the Kordhoce Bridge, the Church of the Assumption & the Holy Cross in Labova, as well as to the castle and the plane tree of Libohove, and an evaluation workshop was followed for the importance of monuments.
The members of the Laboratory met with Mr. Dimitrios Sacharidis, Consul General of Greece, in Gjirokaster. At the meeting, the activities of the Laboratory and the project SMARTiMONY, its actions as well as the possibilities offered for the development of cultural tourism were presented.
For more information contact us, 26810 50234 and contact@kic.uoi.gr.
You can also visit the project website https://www.smartimony.eu/, as well as the website of the Laboratory of Knowledge & Intelligent Computing kic.uoi.gr.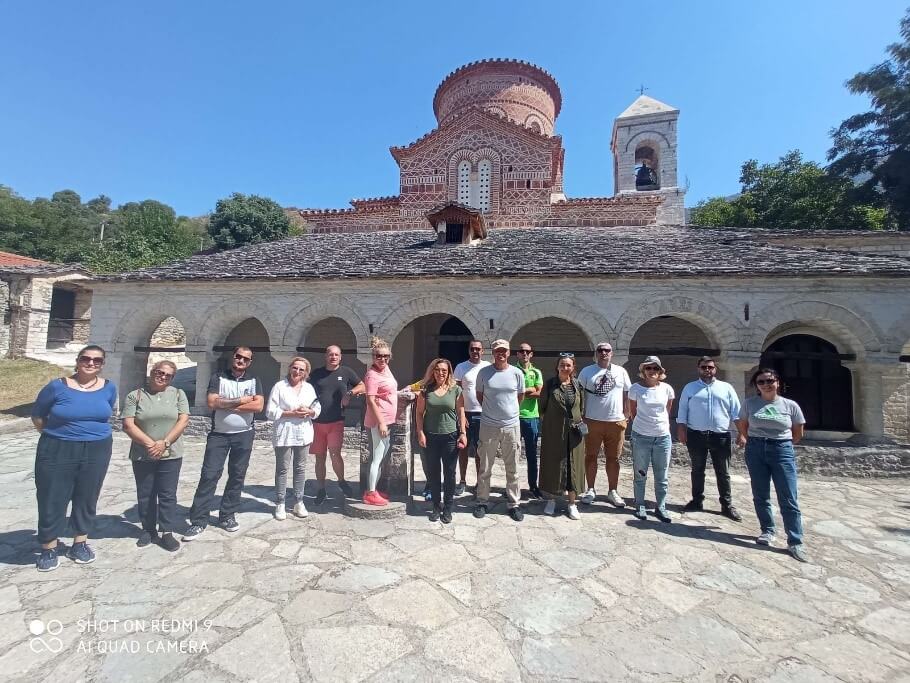 Church of the Assumption of the Virgin Mary or the Holy Cross in Lambovo
The Consul General of Greece in Gjirokaster Dimitrios Sacharidis