Promotion of the Cultural Heritage of Arta for its Innovative Tourism Utilization
An important project for the promotion and utilization of cultural heritage has begun to be implemented. On Wednesday 29 and Thursday 30 July 2020, the inaugural meeting of the partners took place in Arta, for the SMARTiMONY project, which is implemented within the framework of the Cross-Border Cooperation Program "Greece – Albania 2014-2020".
Lead Beneficiary of the Project is the Laboratory of Knowledge and Intelligent Computing (Kic-Lab) of the Department of Informatics & Telecommunications of the University of Ioannina, and the partners are the Municipality of Igoumenitsa, the Institution of Prefecture of Gjirokastra Region and the Regional Center for Development and Cooperation.
The SMARTiMONY Project aims:
in the promotion of cultural tourism
the adoption of new innovative methods centered on culture, for economic and social development
to strengthen the tourism product through the cultural and creative industry
attracting tourists by exploiting the tangible and intangible cultural heritage through innovative narrative techniques and multimedia
the creation of sites of cultural interest, based on a new model of experiences
the provision of tourism experiences based on the combination of innovative ICT products / services for the promotion of tangible and intangible assets of cultural heritage.
The director of the Laboratory and scientifically responsible, Prof. Chrysostomos Stylios, stressed that the main goal of the Project is sustainable development, guided by society and the exploitation of cultural heritage, and referred extensively to the technological innovations that will be implemented within the project, which will strengthen and promote cultural values, changing the way cultural heritage assets operate across borders.
On the second day, a Study Visit was held to important points of interest with remarkable tourist potential in order to create the cross-border "Experiential Cultural Route", which aims to become the main motivation of the tourist trip. The Study Visit was attended by representatives of the Partners and stakeholders in the field of culture and tourism, who discussed issues of utilization of culture and cultural communication with the public. The action closed with the 1st Evaluation Workshop and the participation of interested citizens in the realization of the project.
For more information about the Project, those interested can contact the Laboratory of Knowledge and Intelligent Computing (contact@kic.uoi.gr and 2681050234).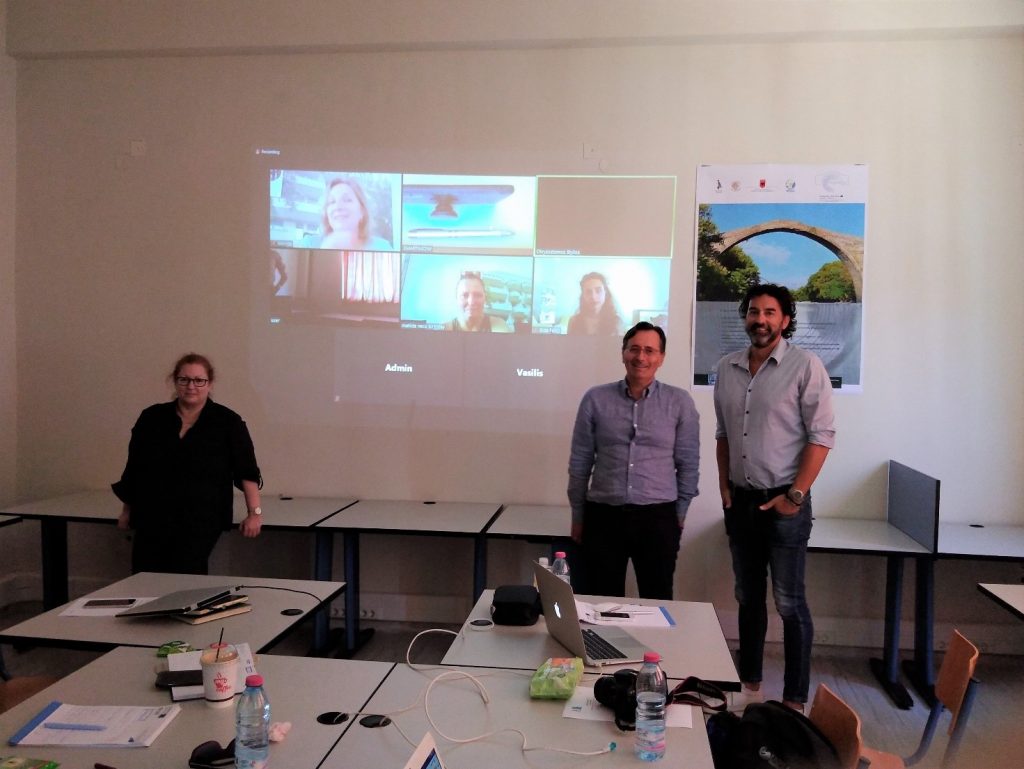 The representatives of the partners with physical and online presence