Close Out Steering Committee Meeting of SMARTiMONY Project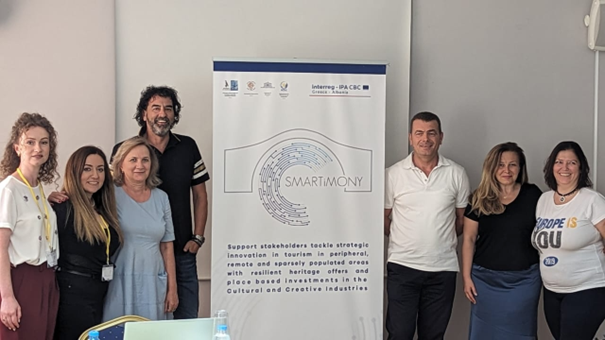 On Thursday, July 20th, 2023, the Close Out Steering Committee Meeting of the SMARTiMONY Project took place at the Hotel "Cajupi" in Gjirokastra with the onsite presence of all Project Partners.
During the meeting, representatives from each Project Partner presented the final Work packages, emphasizing their strategies for ensuring the sustainability of the Project outputs. The discussions revolved around the long-term impact and benefits that the Project's outcomes would bring to the Project Area. The representatives of the Project Partners explored also ways to maintain and further develop the implemented initiatives to continue benefiting Epirus and Gjirokastra Regions in the long term.
The participants considered best practices, potential improvements, and areas for future focus. Part of the meeting was discussions about disseminating the project's results and findings to a broader audience. They highlighted the key achievements and milestones reached throughout the duration of the SMARTiMONY Project. They discussed successful initiatives, completed tasks, outcomes, and also challenges and obstacles faced during the project's execution. The meeting included discussions about the overall impact of the SMARTiMONY Project on the region's tourism and Creative Cultural Industries (CCI). Participants explored possibilities for ongoing collaboration in the future.
Overall, the Close Out Steering Committee Meeting served as an important step for collaboration and planning, marking a significant milestone in the successful conclusion of the SMARTiMONY Project.
The SMARTiMONY Project is implemented within the framework of the Cross-Border Cooperation Program "Greece – Albania 2014-2020". Lead Beneficiary of the Project is the Laboratory of Knowledge and Intelligent Computing (Kic-Lab) of the Department of Informatics & Telecommunications of the University of Ioannina, and the partners are the Municipality of Igoumenitsa, the Institution of Prefecture of Gjirokastra Region and the Regional Center for Development and Cooperation.
For further information about the Project, please feel free to contact the Laboratory of Knowledge and Intelligent Computing at contact@kic.uoi.gr or call +302681050234.